As part of our latest 'entrepreneur' series, we're shining a light on both brands and people who set out to inspire. Millennials have been coined the most entrepreneurial generation of our time and so of course we're passionate about sharing stories which spark passion and inspiration.
More than ever before, we are becoming fixated with the digital world. The demand for high quality design is on the rise, from logos to web design, so many of us are obsessed with discovering the best companies to create the best designs for our businesses.
StartTeck is a hub of design experts who are passionate about creating the best design service for customers. The organisation prides itself on putting customers first, keeping designs simple and aesthetically pleasing, ensuring each design is attention grabbing and even more importantly, they focus on working closely with businesses
to help them grow.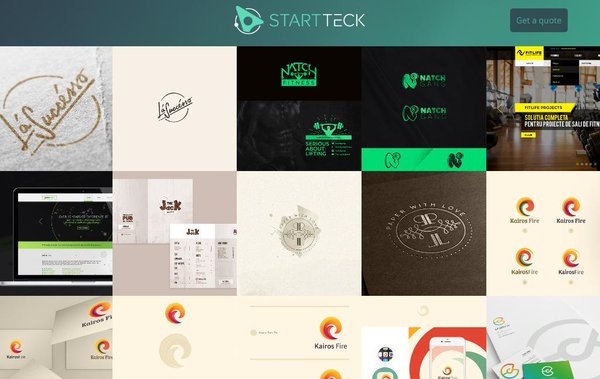 With our passion for all things creative, we had to sit down with Founder Paul Otote to find out more about the brand and where it all started…
What makes StartTeck different to other design companies?
 StartTeck has design at its centre. We put attention to design detail in our brand and core message. If you look closely at our branding, it represents the atom, the smallest molecular structure; the thinking behind this is that we want to break down design into its smallest fraction, with great attention to detail and  build from the ground up, making sure each element of the design serves a purpose. We call this purposeful design, the idea of designing to achieve specific goals. For example, you have a website that sells juices and delivers, your website will have an optimal design and check out process, font and feel that optimises sales, we want to figure what this design is and design it!

Where was the idea born?
Born in London, United Kingdom. StartTeck was birthed out of a few factors. Firstly, when I launched my first business fresh out of university, an online platform for people who were busy to trying lose weight and get healthy via 2 way live video coaching, I hired out the project to a firm who ended up producing low quality work and designs losing me over £15,000. During the time I had met some good people, great designers, who were as passionate as me, speaking to other entrepreneurs, losing money when hiring for design and development work was a common trend. They also hired out their projects but had sleepless nights and still received low quality work. I wanted to change that, having had experience in IT, design and engineering and having a personal passion for helping people,  these factors came together to birth the idea to create a company that stands for something, stands for quality, design, and beautiful code.
What can we expect to see from you in the future?
We want to help others; a main component of the StartTeck vision is helping people grow. Currently, we help businesses grow through purposeful design, designing for optimised sales and loyalty. We aim to start supporting community led projects, hosting events and webinars aimed at helping the next generation of entrepreneurs, designers, communities to aid them to grow to the next level. 
Tell us an interesting fact about you
I've been a vegan for almost 5 years and I body build too. I hold a weight loss nutrition qualification and that's why I enjoy working with health related companies on their designs and websites.
Find out more about the StartTeck story here.