A hybrid fashion collection, fusing the concept of #GenerationFraiche with high-end periodical art and design.
Young Britannia founder Danielle Porteous and so|fraiche! founders Gerald Sagoe and Cyril Ofori, joined forces and embarked on an exciting project. With the ideology of 'Creating the future'. The purpose was to create a flash clothing collection which was going to be high-end but still urban and edgy.
"The principal of Generation Fraiche is celebrating anyone in our generation who thinks differently, sparks new ideas, and inspires others. This can also be juxtaposed to iconic figures of the past that have influenced culture and our current generation of influencers". -Gerald Sagoe
Using bold statements, high-end design and conceptual art for the different pieces of clothing.
The logo itself is a symbol which tells the story of the so|fraiche! brand. The year it was formed, 2011 (MMXI in Roman Numerals). The chains represent the concept of unity and our ethos. The globe represents that we are a global brand. It also includes our symbol, an acute accent and our slogan.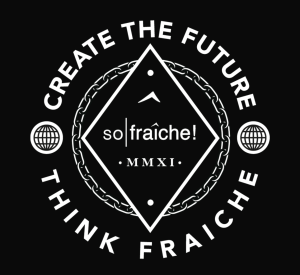 The collection is currently in development and will be launching this summer. Check out the teaser video below, shot in Dubai, UAE.

Clothing available for sale: